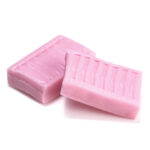 Sweet & Sour Grape Flavored Chews
Taste the juicy flavor of South Korea's grape festival!
These sweet & sour chews taste just like real grapes.
South Korean Snacks
Out of stock
Back to Browsing
Ingredients: Corn Syrup, Sugar, Isomalto-Oligosaccharides, Hydrogenated Palm Kernel Oil, Malic Acid, Maltitol, Gelatin, Soy Lecithin, Artificial Flavors, Grape Juice From Concentrate, Ascorbic Acid, Fruit Juice (Color), Salt.
Contains:&nbsp SOY.
May contain traces of wheat, milk, peanuts, almonds.