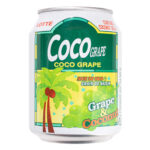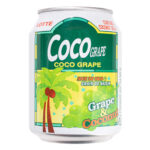 Grape Soft Drink with Coconut Jelly
Sweet South Korean soft drink with chewy bits of coconut jelly.
Is it a drink? Is it a snack? The answer is both! You have to sip it to believe it. (Includes two 8 fl oz cans)
South Korean Snacks
Back to Browsing
Ingredients: Water, Coconut Jelly Syrup, Grape Concentrate, High Fructose Corn Syrup, Citric Acid, Sodium Citrate, Grape Flavor, Enzyme-Modified Sterol Glycosides.
Contains:&nbsp COCONUT.