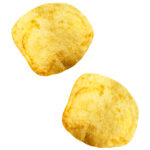 Oyster & Vinegar Potato Crisps
A bite of the Kentish seaside in every crisp.
It's a Kentish tradition to serve fresh oysters with vinegar. Now, tradition has turned into chips!
British Snacks
Out of stock
Back to Browsing
Potatoes, Sunflower Oil, Sugar, Natural Flavors, Lactose, Salt, Milk, Citric Acid, Maltodextrin, Tartaric Acid, Sea Salt, Potassium Chloride (Salt).
Contains:&nbsp MILK
What did you like (or dislike!) about this product?
We want to know! Be the first to write a review.
Log In to Review